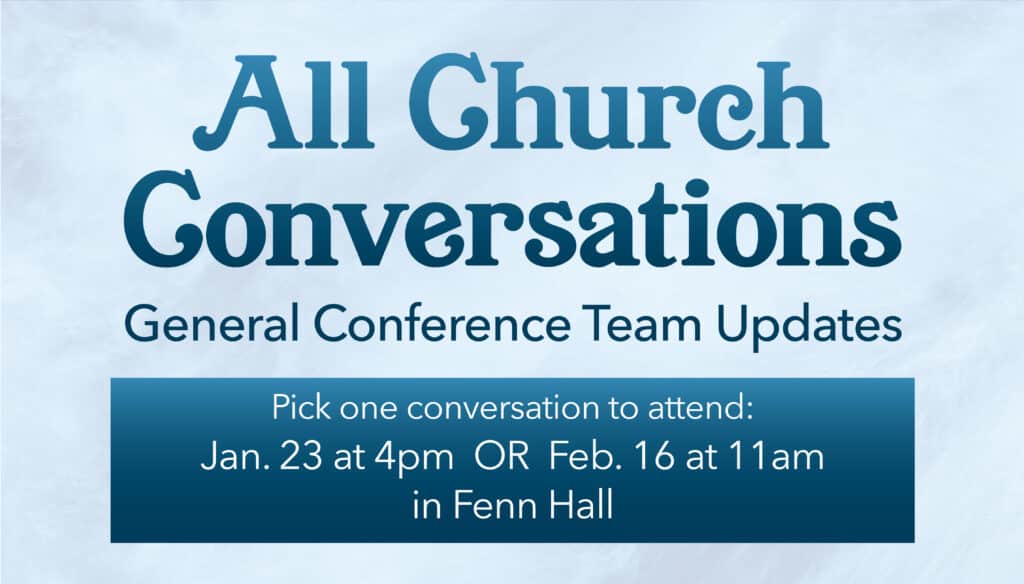 All Church Conversations: General Conference Team Updates
Pick one: Jan. 23 at 4pm OR Feb. 16 at 11am // Fenn Hall
Join us for one of our two All Church Conversations: General Conference Team Updates on either Sunday, Jan. 23 at 4 pm or Wednesday, Feb. 16 at 11am in Fenn Hall. These sessions will be open to the wider church for updates, conversations, and question and answer time around all things General Conference in relation to wider denominational conversations concerning the future of The United Methodist Church.
This will be an excellent time to meet the members of our General Conference Guidance Team and learn more about their purpose in communicating important developments with the McFarlin congregation at regular intervals leading up to the General Conference and beyond in order to strengthen the unity and connection of the McFarlin congregation.
While you may have many or few questions that we hope to answer, the discernment of McFarlin's General Conference Guidance Team is that the future of the McFarlin Memorial United Methodist Church is brighter than ever, no matter what the ramifications the upcoming General Conference brings! Our congregational family understands the important responsibilities that McFarlin has to the Norman community and beyond. Our missional impact has blessed countless lives and will continue to bless many more. Whatever structural body that the McFarlin congregational family chooses to be a part of, we are confident that McFarlin will continue Changing Live That Change the World!