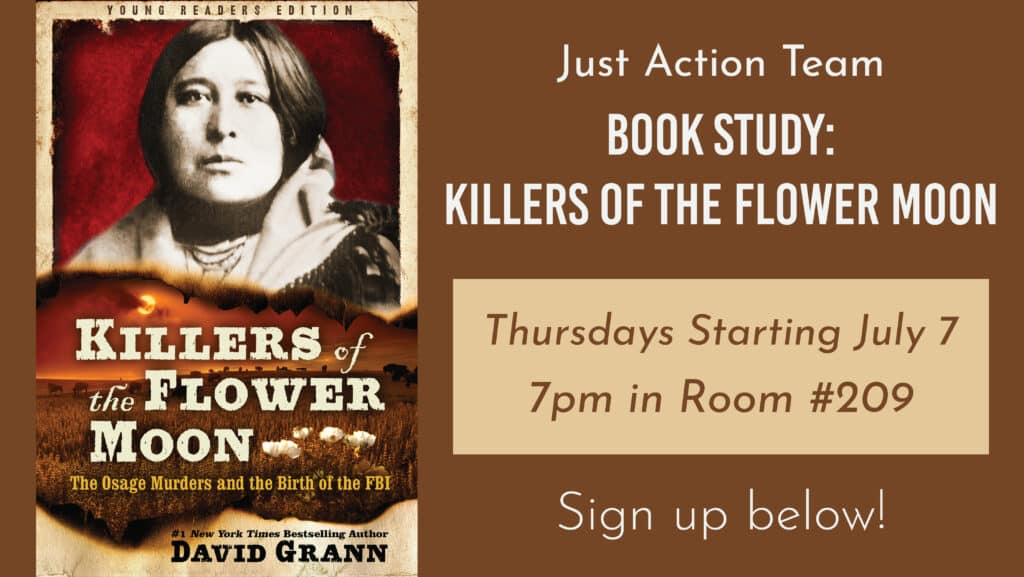 Just Action Team Book Study: Killers of the Flower Moon
July 7, 14, 21, 28 // 7pm in Room #209 // RSVP below
This is a book that was recommended to us by our spring speaker David Wilson. In Killers of the Flower Moon, David Grann revisits a shocking series of crimes in which dozens of people were murdered in cold blood. Based on years of research and startling new evidence, the book is a masterpiece of narrative nonfiction, as each step in the investigation reveals a series of sinister secrets and reversals.
But more than that, it is a searing indictment of the callousness and prejudice toward American Indians that allowed the murderers to operate with impunity for so long. Killers of the Flower Moon is utterly compelling, but also emotionally devastating.
We will meet in July for four discussion sessions: July 7, 14, 21, and 28 at 7pm for approximately an hour each evening. Kristen Howard and Harris Philips will facilitate the discussions, but this is intended to be a time of engagement and challenge. Certainly, there is much to question and discuss!